The original Hope Bay Store and heritage buildings were destroyed in a fire in 1998 and after several unsuccessful attempts by private investors to reconstruct the building, the historic site was to be auctioned to the highest bidder in 2003. Fearing that the development might not fall into the "right" hands, Hope Bay Rising Holdings Ltd. was quickly founded by a group of 27 dedicated islanders and they purchased the property. The goal was to restore the historic appeal and business potential of the property, making it an attractive island destination...and they did just that. The Hope Bay Store opened for business on July 3rd, 2005. The construction was done entirely by locals and their hard work was recognized by the Victoria Real Estate Board and The Times Colonist with a Commercial Restoration Award.

In October, 2008, the 27 owners passed on the torch to a local island family. They look forward to keeping the dream alive and salute the perseverance and vision of "The Group of 27" who made it all possible!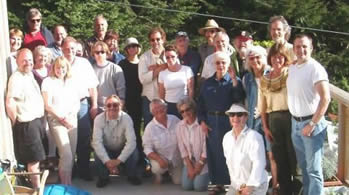 Hope Bay Rising - The Visionaries

Historically, Hope Bay has been the site of viable commercial enterprises since the turn of the century (see our History page).

With its natural beauty and colourful history, leased space at Hope Bay is not only desirable but unique to both the Pender Islands, British Columbia and to all of Canada.