Robert Stewart Wallace Corbett
Corbett & Son General Store
"The little store with the big stock."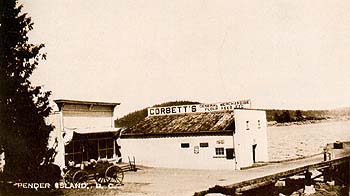 Robert Stewart Wallace Corbett was born in Laxton, Ontario, September 8th, 1863. He married Isabella Jane Merrit, a school teacher, on September 18th, 1889. In 1902, they and their two children, Stewart Percival and Winnifred Isabel, moved to Pender Island. They were intending to go on to California, but had stopped off at Pender Island to visit old friends and former neighbours, Albert and Henrietta Menzies, who convinced them to stay. They rented the McDonald house and then purchased 180 acres from the Menzies.

In 1903, Robert built a comfortable and typical turn-of-the-century farm house that still stands on Corbett Road, now known as Corbett House Bed & Breakfast. The store at Hope Bay was opened shortly thereafter. In 1905 Robert was appointed as the postmaster of Pender Island, a position he held till 1931, when he resigned due to ill health.

The store at Hope Bay has, over the years, played an important role in the lives of Pender Islanders. The store opened sometime after late 1903 when Robert Corbett recognized that Pender Islanders would appreciate a convenient way of obtaining supplies on the Island. Up to that time Pender residents had ordered their provisions and other goods by mail order and these were brought by boat to the wharf at either Port Washington or Hope Bay. Robert built a small frame building very close to the Hope Bay wharf and the store was named Corbett and Son. In 1905 the store was formally established and the post office was moved into the store with Robert as post master and Percy as his assistant. In the early days, freight was brought on board the "S.S. Iroquois" out of Sidney and connected with the old Victoria and Sidney railway. On the door of the store, a card informed prospective customers that the store would be open all day on boat days, but only for certain hours on other days. The business was founded by R.S.W.Corbett with a policy of square dealing and trying to anticipate the requirements of the area served. Proof that this rule had been rigidly adhered to was illustrated by the fact that on the firm's monthly accounts in 1956 were found many of the same names that had started buying there in 1905. The items listed on the annual stock sheets for 1909 paint an interesting picture of Pender Island life in the early 1900s. Written in the fine old-fashioned hand of the late Mrs. R.S.W. Corbett, the sheets disclose such interesting feed items on hand as 20 sacks of rice bran, 25 sacks of coconut cake, and 30 sacks of rice, while behind the dry goods counter could be found black or brown shirt lining at 12 cents a yard, white or grey flannelette at 5 cents a yard, assorted prints at 12 cents a yard, men's heavy cotton work shirts at 50 cents each, and quality towels at 25 cents a pair. The ladies who walked or drove in buggies to the store on boat days could pick up such items as long, black-beaded hat pins to keep their wide-brimmed hats secure, a pair of new, fashionable high button shoes, or all-wool cashmere stockings for 25 and 30 cents a pair. The men shopped for such necessities as 50 cents worth of gunpowder and a couple of pounds of buckshot. Nails were always available, 20 pounds for $1.10. The children would anxiously look over the new shipment of slates, bound in red felt at 10 cents each. They would beg their fathers for a penny for a bag of mixed candies. Bacon was 13 cents a pound, and large white cakes of "Fairy Soap", a high-priced item used for "milady's" complexion, were $1.00 a dozen. Pure silk stockings in black or white, at 50 cents a pair, were kept in stock for islanders' trips to Vancouver, Victoria, Sidney or Nanaimo.

By 1912 the population of the area had grown so much that a new store was built with two small warehouses, which were at the time "the very latest and up to date" in country stores. The post office was relocated to a relatively spacious area at the rear of the store. A few years later, the two small warehouses were replaced with a large two-storey warehouse, with more than enough room for the stock, but soon an additional warehouse had to be built, as the business continued to grow. The store was modernized in 1928 with an electric plant, frigidaire, and ice-cream cabinet, and in 1936 it was further enlarged to the rear using lumber salvaged from the dismantled Doukhobor settlement on Piers Island.


When Robert retired in 1931, he passed control of the store and his position as post master to his son Percy. Robert died in 1943. Percy, latterly assisted by his son Stewart before and after the Second World War, continued the operation until the store was sold in 1956 to Ralph Smith and Norm Miller, thus ending over 50 years of dedicated mercantile service to the community by the Corbett family. At the time of its sale in 1956, it was considered a bright modern, general store, with a self-serve grocery department, and carrying a complete stock of all normal requirements for country living. It was also claimed to be the oldest established general store in the Gulf Islands or the Saanich Peninsula to operate under the same management for the past 40 years of its 52 years of existence.

Smith Brothers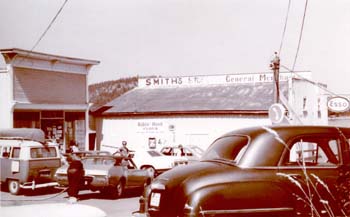 Shortly after 1956, Norm Miller was replaced in the partnership by Ralph Smith's brother William, and the store continued under the name "Smith Brothers" although Percy Corbett remained post master until 1961. Succeeding owners were Robert Johnston, Desmond Hoare, Bob George and Kees Vandervalk.
Over the years, freight and passengers were brought to and from Hope Bay by various vessels. The first regular ferry service to Hope Bay and Bedwell Harbour was provided in 1901 by the "S.S. Iroquois", a small steamer measuring 72 feet in length. This ship capsized and sank in a squall off Sidney with a considerable loss of life. In the 1930's, an ad for Waterlea Lodge advertised passage from Pier C in Vancouver to Hope Bay aboard the CPR Steamer Princess Mary. Locals referred to the days when these ships were scheduled to arrive as "Boat Days" and these were almost festive occasions when islanders gathered to see people arrive or leave, to watch the freight off-load or watch Island produce depart, to collect mail and particularly to visit and exchange gossip with other islanders. The children especially enjoyed these days and would sit out on the rocky point waiting for the boat to arrive and the excitement to begin. One woman remembers the day when " 'Whistling Stanley Stiggings' " pigs, coming off the Lady Rose, got loose and ran amuck."
After 1966, with the construction of the front end loading ferry slip at Otter Bay, ferries no longer called at the Hope Bay and Port Washington wharves. Demand for farm staples and supplies was further reduced with the change from an agricultural based economy to a residential/retirement community. The viability of the two general stores at Hope Bay and Port Washington was seriously compromised with the removal of their two post offices in 1979. The Hope Bay Store closed its doors as a grocery and general store a few years after this.
Since 1979, the buildings at Hope Bay have been home to various Arts and Crafts stores such as Quatro Books (1991), the Galloping Moon Gallery , Stella Maris Gallery, ITZYU Designs and The Goldsmith Shop, the latter which still remains today. The buildings were razed in a fire in the early hours of Sunday, February 23rd, 1998. Reconstruction began a couple of years after the fire, but was not completed. The site was purchased in April of 2003 by a group of local Pender Islanders who have had a close association with Hope Bay in the past and wanted to rebuild it to restore its legacy of heritage and commercial purpose. Hope Bay Rising Holdings Ltd. hopes that, phoenix-like, 101 years after the business began, a new centre has emerged and once again provides space for commerce as well as a place for people to gather and enjoy the spirit of the rural Pender Island lifestyle.
---

Sources

"A Corbett Family History"
compiled by Robert Stewart Wallace Corbett

"The Hope Bay Store 1912-1998"
by Peter Campbell, The Pender Post, April 1998

"The Gulf Islanders"
Sound Heritage Series
Vol.v, No. 4, Aural History, BC Archives

Title Unknown
The Saanich Peninsula and Gulf Islands Review
Sidney, British Columbia. January 11th, 1956

Title Unknown
The Saanich Peninsula and Gulf Islands Review
Sidney, British Columbia. December 8th, 1937